Apartments rent by the week ONLY (Sun-Sun) in season, June 13 - September 5th.
Three day minimum stay in the off season.
Apartment #3
#3 Two room apartment located directly off the porch w/lovely wood floors, a well-equipped Kitchen/dining/living room and a cozy bedroom w/double bed & private toilet. The shower is located in a charming cedar shower house right next to the main house. It has a skylight, electricity, a sink and a place to hang your clothes (see photo of shower on home page).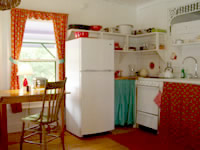 #3 kitchen/living/dining room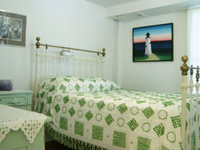 #3 bedroom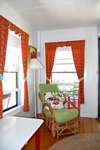 #3 cozy corner
Off season: $650 per week, $125 daily when available (3 night minimum)
In season: $775 per week, $165 daily when available (3 night minimum)
Accommodates 2